JOHN HANS ANDERSON HAS FAILED TO UPDATE AXJ MEMBERS ABOUT HIS CASE
Apparently the authorities in Canada have updated Mr. Bill Stoneking on all the activities of Mr. Anderson and a new complaint will soon be filed by AXJ members against Mr. John Hans Anderson. According to his mother he has always been a trouble maker and bully and testimony, sworn affidavits, and a video conference with the Court has been scheduled to get a NO CONTACT ORDER and RETRAINING ORDER against not only Mr. John Hans Anderson, but against Mr. Pete Geary of Australia, both members of BUACA CANADA and BUACA AUSTRALIA.

Mr. John Aster the CEO of AXJ has the recorded testimony of the mother of Mr. John Hans Anderson and has been spearheading this sting operation in Australia, Canada, and Internationally. As a matter of fact INTERPOL has been contacted and a new forum on Facebook has been created by AXJ Members to discuss these events: https://www.facebook.com/groups/53807893645/

AXJ warns its members that this is all sub judice at the moment and the local police Authorities in Canada ( RCMP ) have requested that AXJ Members please refrain from posting any derrogatory comments which may be used in a court of law. Stalking and bullying is a very dangerous thing and the RCMP in Canada are watching everything posted on that forum by Mr. John Hans Anderson and all the fake accounts he keeps opening.DOWNLOAD THE EVIDENCE HERE:
http://www.judicialaccountabilityproject.org/JohnHansAndersonShowsHisAss.asp
AXJ CANADA FACEBOOK
12-07-2012
JOHN HANS ANDERSON OF S.T.O.L.E.N. WANTED BY POLICE IN BRITISH COLUMBIA, CANADA. SEE THE EVIDENCE
I write this as fair comment and "in good faith, without ill-will" ©.
Apparently John Hans Anderson of S.T.O.L.E.N. makes a video about AXJ but fails to mention he is a confessed criminal and wanted fugitive by the Police and Courts in his home town Kelowna. S.T.O.L.E.N. was created to steal people's Identities on Facebook and other social networking websites.
We attach the evidence below:
Here you can see the Court Orders from:
KELOWNA LAW COURTS
1355 Water Street, Kelowna, V1Y9R3
Tel: (250) 470-6900
Kelowna 1 888 758-2888
the toll free # is to the prosector's office.
Phone: 250 387-3840
Fax: 250 387-0090
Kelowna Court Services(Provincial and Supreme Courts)
1 - 1355 Water Street
Kelowna, B.C. V1Y 9R3
Tel: 250 470-6900
Library Fax: 250 470-6939
Sheriff Services
Tel: 250 470-6846
Fax: 250 470-6843
ATTN: Staff Sgt. Maclaughlin, Constable Brian Dobbs,Superintendent Bill McKinnon.
TEL : +1-250-762-3300 RCMP Kelowna detachment.
Court order issued to arrest John Hans Anderson for failure to appear: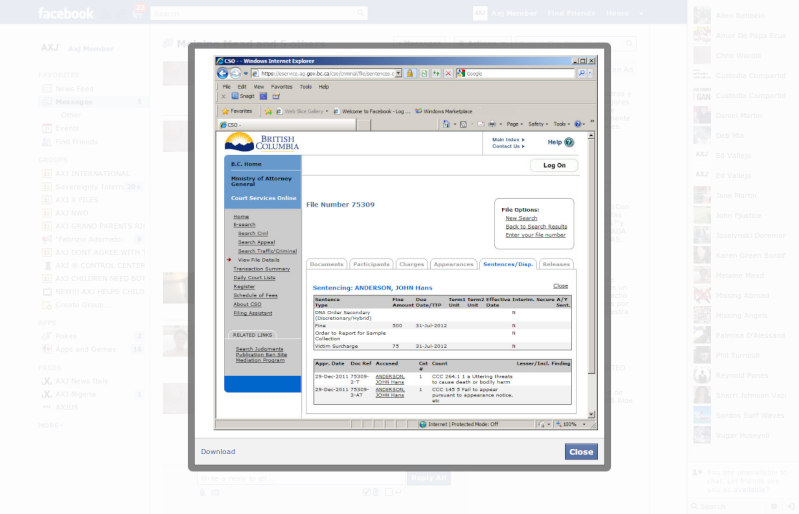 * See more details below.
Here you can see the information regarding Joey Dauben accused of assaulting a 15-Year-Old Boy:
AXJ REPORTS ON INDICTMENT OF JOEY DAUDEN AND JOHN HANS ANDERSON OF S.T.O.L.E.N.
Courtesy of the Dallas Observer Photo by Patrick Michels
AXJ DALLAS NEWS
AXJ PRESS
www.axj.com
12-22-2011
According to Anna Merlan of the Dallas Observer (
http://blogs.dallasobserver.com/unfairpark/2011/12/ellis_county_observer_publishe.php
)
Joey Dauben Crusaded Against Child Porn. Now He's Accused of Assaulting a 15-Year-Old Boy.
Apparently AXJ Members in the USA who have formed part of the GRAND JURY in Texas have decided to go after the cult-following related to the "Dauben Messianic congregation of Waxahachie", and have informed the Royal Mounted Police of Canada that John Hans Anderson of BUACA, and a program named S.T.O.L.E.N, and Pete Geary of an organization in Australia named BUACA, may all be part of this cult.
The police in Canada and Australia are investigating and request your help. Please contact them directly or contact any AXJ Member around the world 24/7/365 to report these criminals.
Joey Dauben Crusaded Against Child Porn. Now He's Accused of Assaulting a 15-Year-Old Boy.

By Anna Merlan Thu., Dec. 22 2011 at 12:23 PM

Dauben1.jpg
Photo by Patrick Michels

Joey Dauben, who now sits in jail in Navarro County

​Perhaps you've heard by now: Joey Dauben, publisher of the Ellis County Observer and several other small-town papers and websites throughout North Texas, has been indicted and arrested on charges of sexually assaulting a 15-year-old boy. The 30-year-old Dauben, who Patrick Michels profiled in an Observer cover story earlier this year, was arrested by Texas Rangers at his grandmother's house in Mabank late Monday afternoon. He currently sits in Navarro County Jail; his bond has been set at $200,000.

Dauben stands accused of three counts of sexual assault on a child, one count of indecency with a child, and sexual contact. All charges stem from an alleged incident in 2007, during a retreat for a now-defunct church, Olive Tree Ministries, at Navarro Mills Lake.

Reached by phone, his friend and video editor Brannon Bridge tells Unfair Park, "Basically, all I know is what's like been printed about it. But I can tell you, I'm 100 percent sure he's innocent."

Dauben, as Patrick mentioned in his cover story, began writing back in February about a man in Ennis who was busted with an apartment full of child pornography, and who Dauben believes is responsible for the murder of 9-year-old Amber Hagerman, the decades-old case that led to the establishment of the "Amber Alert" system (although Patrick called the connections between the Ennis man and the cold case "tenuous," and other media outlets, and law enforcement agencies, seem to agree). More recently, WFAA notes, Dauben posted an article on the Ellis County Observer site about "child porn rings" on Facebook, which he called "the breeding ground of a massive, global, inter-connected, sick and sadistic, electronic child porn, child-sex trafficking ring."

Anonymous friends told WFAA they believe Dauben has been falsely accused in retaliation for his reporting. An article posted on the ECO homepage states, "This accuser has a history of falsely making accusations," and posts the bulk of a MySpace conversation from 2007. Both names in the conversation are redacted.

"He spends 80 hours a week trying to expose corruption and fights against this kind of stuff," Bridge says. "He spends so much time and energy just trying to make sure that kids and people who are victims ... have a voice and whatnot." Brandy Owen, managing editor for the Ellis County Observer, posted an update to their blog yesterday stating that she'd received a phone call informing her Dauben has been placed on suicide watch.

Dauben previously served 12 days in jail for publishing the mug shot of a police officer, William Achey, That incident was related to a much longer and more confusing feud between two "gypsy cops," Michael Meissner and John Hoskins. Hoskins accused Meissner of posing as a woman and soliciting nude photos from underage boys, a charge for which Meissner was arrested. Dauben then posted a variety of allegations against Hoskins and other police officers investigating the case; in the process, he published the Achey photo, which came from a computer database that's supposed to only be accessible to law enforcement. Hoskins alleged Meissner paid Dauben $200 to post the photo.

There's an excellent sum-up of the Hoskins-Meissner mess by Mike Orren over at Pegasus News, and a Dallas Morning News article likewise recaps Hoskins and Meissner's lengthy battle. All charges against Dauben and Meissner were ultimately dropped.

Before his tumultuous career as a publisher, Dauben freelanced off and on for eight years for the Ellis County Press under editor Charlie Hatfield.

"Well, I don't have a clue" if the sexual assault charges against Dauben ring true or not, Hatfield tells Unfair Park. "The Texas Rangers investigated it for 30 days before filing the charges. My personal belief is I don't believe the Texas Rangers file charges no reason."

Hatfield also spoke about Dauben's parting from his paper. "My concern with Joey was that he started writing stories based on rumor, not fact," Hatfield said. "We couldn't afford it. The credibility of the paper was at stake. I told him, 'You need to choose.' He decided to be a political activist instead of a reporter."

Nonetheless, Hatfield says, during the time Dauben worked at the Press, "he had a lot of promise. I think Joey has a brilliant mind. The problem is that he's gone to the dark side, so to speak. He wants to write about what he wants to write about, without being subject to the discipline of good journalism."

Returning to the allegations, Hatfield says, "I would never have thought that of Joey. I was shocked and very disappointed." Ultimately, he adds, "I thought he was going to turn things around and be a good journalist. He had the potential of doing that. Sadly, I think he's lost his credibility."
Another good source of information:
EXCLUSIVE: JOEY DAUBEN Indictment HERE – Details of Child Sexual Assault

Posted: December 22, 2011 in Ellis County Observer, Freedom of the Press Group, Home Page, Joey Dauben

Tags: Ellis County Observer, ellis county observer sucks, GRAND JURY INDICTMENT OF JOEY DAUBEN, Joey Dauben indictment child sexual assault

145

If this case weren't the Charles Manson case of the 21st century, I wouldn't post this indictment. But given Joey Dauben's cult-following related to his "Dauben Messianic congregation of Waxahachie" that was shut down, it is an important part of the story of a con-man who thrives on sex, fame, religion, and politics.

His cult-followers are attempting to make a martyr out of him and to trash the victim. We are here because we KNOW Joey Dauben very well and we are not going to allow him to pull the rhetoric game to get off (pardon the pun) this time.

So, here's the indictment, courtesy of WFAA, Channel 8 News who was very kind enough to share this with us:


GRAND JURY INDICTMENT OF JOEY DAUBEN

Publisher's Note: Barbara Farris, Joey Dauben cult-follower, just made claims on her blog radio show tonight (12-21-11) that it is abusive for the parent and others encouraging the victim of this heinous crime to come forward, threatening that it will "ruin his life." How utterly irresponsible and mean.

UPDATED DECEMBER 22, 2011: Dallas Observer.com just posted a good overview story. Click here to view it.

Source :

http://elliscountyobserversucks.wordpress.com/2011/12/22/exclusive-joey-dauben-indictment-here-details-of-child-sexual-assault/
UPDATE ON COURT HEARINGS FOR JOHN HANS ANDERSON OF S.T.O.L.E.N.
Image on the internet.
AXJ CANADA
12-10-11
AXJ is waiting for updated information regarding John Hans Anderson. In the meantime apparently disenchanted S.T.O.L.E.N. and BUACA Members have created a new website to publish all the evidence against the Presidents of these two organizations:
http://stolenbuaca.com/
----------------------
NEXT COURT DATE FOR JOHN HANS ANDERSON OF S.T.O.L.E.N. OF CANADA?
Image on the internet.
AXJ CANADA
12-09-11
Apparently today at 09:30 am John Hans Anderson is scheduled to appear in the Court in his city Kelowna, B.C., CANADA for threatening to murder a woman in Alberta, Canada. If he does not appear another warrant for his arrest will be issued immediately.
John Hans Anderson is accused of making "false, slanderous, libelous and defamatory statements to harass his targets and for the sole purposes of inflicting emotional distress and severe mental anguish on his targets".
He has even created a new website at:
http://stolenshow.canadian-forum.com/t26-axj-tries-to-shut-down-stolen#36
where he posts the following:

AXJ Tries To Shut Down S.T.O.L.E.N. Another attempt to cover up the victim who called the show exposing John Aster. We will continue to upload and show you the people the truth about online scams and corrupt individuals who think that they can get away with harming our people, people that are vulnerable. We have noticed that AXJ's forum has false claims about STOLEN, this is what they are doing now to cover up all that we have on AXJ & John Aster. We have several recording and video's proving the scams and attacks of AXJ and its small amount of members.

People and fans of the show, please help spread the word that these people are trying to cover up all that shows that expose the truth. Even actor/director Bill Stoneking of Divorced Dudes movie is in on all the corruption online, this includes also his close friend Donald Tenn of Fathers 4 Justice USA. They have made false claims to child protection claiming fathers are a threat to children, they have made calls to other governments in other countries acting as police officers. They even called the crowns office in Kelowna Canada in an attempt to contaminate John Anderson's case so that he go's to jail and cant expose them any further.

Please lets stay together and help John Anderson, Host and owner of S.T.O.L.E.N. keep exposing these kinds of people to the world so that the people can be warned and safe online from people stealing children's pictures and such like Chris Wardill has done (member of AXJ).
All AXJ Members around the world are welcome to search the Canadian Court database for the specific time and place:
https://eservice.ag.gov.bc.ca/cso/esearch/criminal/partySearch.do
Public image from the internet
AXJ CANADA
11-30-11
Update to recent news about
John Anderson
of Canada he has now decided to slander a few more innocent parents and grandparents ( all members of AXJ around the world ) by using the prestigious website SCRIBD :
http://www.scribd.com/doc/74019612/AXJ-Pedophile-and-Pedophile-Supporters-GOOGLE-JOHN-ASTER-FOR-MORE-INFO-CHRIS-WARDILL-IS-HIS-LOVER#source:facebook
With this post
John Anderson
will find himself on the most wanted list in his country Canada and AXJ will inform the FBI in the USA and INTERPOL if he decides to travel to any other country.
Apparently AXJ has contacted YOUTUBE and they have removed
John Anderson's
publication there:
https://www.youtube.com/user/MrNeoKat
AXJ CANADA
11-25-11
Apparently a criminal case and sworn affidavits have been filed before a Court in Canada against a few people of the organization known as
S.T.O.L.E.N.
on the internet.
AXJ CANADA
states
it supports freedom of speech everywhere in the world but does not and will not tolerate bullying nor hacking nor slander of any kind.
AXJ CANADA
has received a copy of the following draft sent to the Canadian authorities regarding this matter:
AFFIDAVIT AGAINST S.T.O.L.E.N

KELOWNA LAW COURTS

1355 Water Street, Kelowna, V1Y9R3

Tel: (250) 470-6900

Kelowna 1 888 758-2888

the toll free # is to the prosector's office.

Phone: 250 387-3840

Fax: 250 387-0090

Kelowna Court Services(Provincial and Supreme Courts)

1 - 1355 Water Street

Kelowna, B.C. V1Y 9R3

Tel: 250 470-6900

Library Fax: 250 470-6939

Sheriff Services

Tel: 250 470-6846

Fax: 250 470-6843

ATTN: Staff Sgt. Maclaughlin, Constable Brian Dobbs,Superintendent Bill McKinnon.

TEL : +1-250-762-3300 RCMP Kelowna detachment.

REF : 27341 I

Your Honor:

This letter is to inform you that I am willing to present this sworn Affidavit with its attachments and exhibits before the Court to prove that I have been personally insulted and/or bullied and/or stalked on social networks such as Facebook and on the internet, by a person that goes by the name of Mr. Neo Kat and/or John Doe and/or John Anderson, residing at: Pettigrew St., Kelowna, BC V1Y, Canada, apparently runs the following program called S.T.O.L.E.N. on Youtube:

https://www.youtube.com/user/MrNeoKat

And on Facebook at:

https://www.facebook.com/profile.php?id=100003075710617

Let me state the facts as follows:

First. ) My name is (your name ) , and request that the Court and/or Prosecutor and/or Attorney General please keep my name and personal information private and confidential for security reasons

Second. ) I have an account on a few social networking websites such as Facebook where I stay in contact with my friends and family on a regular basis.

Third. ) On or about ( date ) I came in contact with a man called John Doe or John Anderson who claims he runs a program called S.T.O.L.E.N. I attach his internet address on Facebook and on the internet and on Youtube as exhibit A.

https://www.youtube.com/user/MrNeoKat

Fourth. ) This person has been sending me the emails and/or publications about me and/or my friends and family I attach as exhibit B.

Fifth. ) I feel these emails are personally threatening and full of misrepresentations and/or slander about myself and/or my family and/or my friends.

Sixth. ) Based on this sworn Affidavit along with the attached evidence, I kindly request that the Court grant an indefinite

NO CONTACT ORDER

against John Doe ( Anderson ) of the program S.T.O.L.E.N. without prejudice save as to costs.

Seventh. ) Based on this sworn Affidavit along with the attached evidence, I kindly request that if required by the Court, a legal advisor and/or attorney and/or barrister be appointed in my defense to proceed to prosecute this individual as soon as possible, and request the moral and/or personal and/or emotional damages and pain and suffering caused to myself, along with my friends and/or family.
Admin




Posts

: 9


Join date

: 2012-01-04



Similar topics
---
Permissions in this forum:
You
cannot
reply to topics in this forum